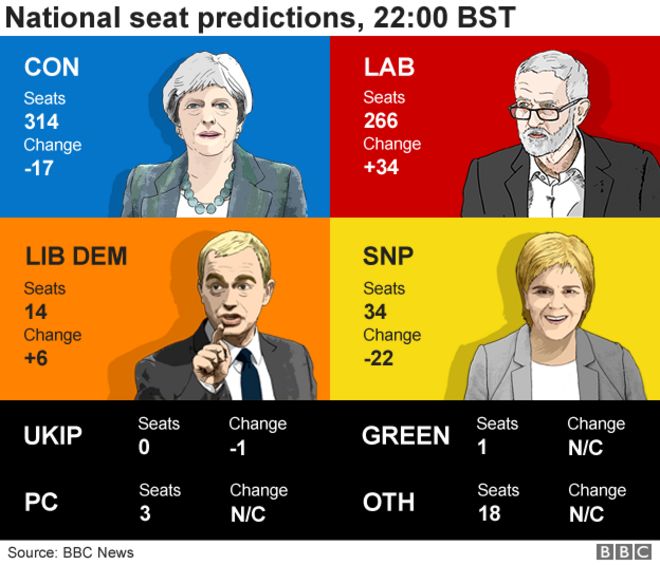 The Tories will be the largest party but may not have a majority, according to the general election exit poll.
The survey taken at polling stations across the UK suggests the Tories could get 314 MPs when all the results have been counted in Thursday's election.
Labour would get 266, the Lib Dems 14, UKIP none and the SNP 34, the NOP/Ipsos MORI poll for BBC/ITV/Sky suggests.
Labour held Newcastle Central with a smaller swing from the Tories, of 2%, than the exit poll suggested.
Polling expert John Curtice, who helped compile the exit poll, said it was the "first sign" the country was "drifting away" from the Conservatives.
The Newcastle constituency won the race with Houghton and Sunderland South, another Labour hold, to be the first of the night to declare its result.
To get an overall majority, one party needs to get 326 seats.
The exit poll suggests the Conservatives would be 12 short of an overall majority.
It suggests Labour would gain 34 seats, the Conservatives would lose 17 seats, the Lib Dems would gain six and the SNP lose 22 seats.
The Green Party would be unchanged with one seat and Plaid Cymru would still have three MPs, according to the poll.
In total, 30,450 people were interviewed as they exited 144 polling stations across the UK.
Conservative Defence Secretary Sir Michael Fallon cautioned against reading too much into projections.
Labour's John McDonnell agreed that it was too early to call the result,