Fast Answers
Why get into gymnastics?
Gymnastics helps to improve your flexibility, balance and co-ordination as well as boosting concentration.
Who is it for?
From toddlers learning motor skills to adults looking for a fresh way to workout, everyone can get a kick out of learning gymnastics.
Is there a cheap option?
Whether it's bouncing on a trampoline, doing cartwheels or hanging from monkey bars, you can work on your gymnastics for free!
What if I want a proper workout?
Gym-fit classes are a great way to combine gymnastics with traditional fitness classes to give you an all-round workout.
Can I take it to another level?
Once you join a British Gymnastics affiliated club, you'll be supported every step of the way by expert coaches.
Is there a disability option?
Mainstream gymnastics sessions can be adapted to include people with physical or learning disabilities. Find out more below.
Is there a family option?
Help your children unleash the natural gymnast inside them by attending pre-school gymnastics sessions.
So where can I take part?
Go to our

Activity Finder

to get into gymnastics near you.
Useful links
Some people do gymnastics just to improve their physical condition, others enjoy competing in regional, national and international competitions, but by far the biggest reason is the fun factor.
You'll find clubs in almost every town and city across Britain, running sessions for every age and ability and British Gymnastics have a tool to help find the perfect gymnastic activity for you.
Read on for information on all different versions of the sport.
Aspire to be like: Max Whitlock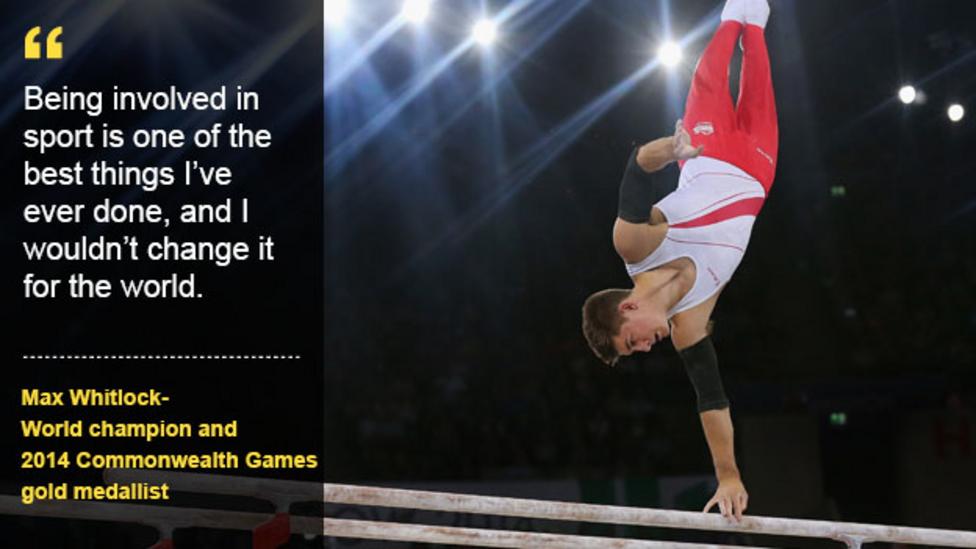 Men's artistic gymnastics
Your muscles flex, your heart pounds, you tuck into a spin and go for the perfect dismount.
Men's artistic gymnastics is all about strength. Club sessions are designed to help you learn the six activities that make up the sport (the floor, the pommel horse, the rings, the vault, the parallel bars and the high bar).
Then, as you get to grips with the core skills, you'll learn to perform powerful routines full of exhilarating moves.
Women's artistic gymnastics