DESCRIPTION
The onion is a member of the lily family, a close relation of garlic. It is often called the "king of vegetables" because of its pungent taste.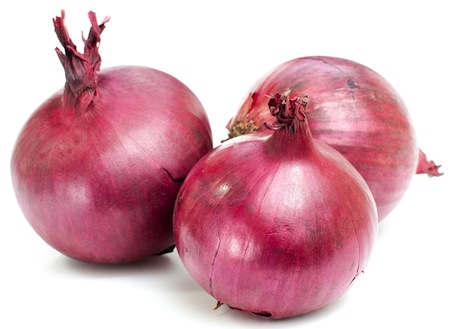 There are many varieties of the onion—white, yellow, red and green globes. They also differ in size, color and taste. The smaller onions come in many varieties such as the green onion, or scallion which includes chives, leeks and shallots.
The smaller the onions, the more pungent they are. They are the ones that make your eyes water when you cut them, when the organic sulphur is released into the air.
NUTRITIONAL BENEFITS
There is considerable variation in composition between different varieties and they also vary with the stage of maturity and the length of storage.
Onion is a powerful anti-septic that is rich in vitamins A, B and C. It is a potent source of folate, calcium, phosphorus, magnesium, chromium, iron and dietary fiber.
HEALTH BENEFITS
Ancient records reveal that onions have been used as far back as 4000 B.C. as a cure-all for many illnesses. In WW II, the vapors of onion paste was used to reduce the pain and accelerated the healing of soldiers' wounds.
Even now, we find many medicinal properties from this dynamite bulb:
Anemia: The high content of iron in onion makes it beneficial for the treatment of anemia.