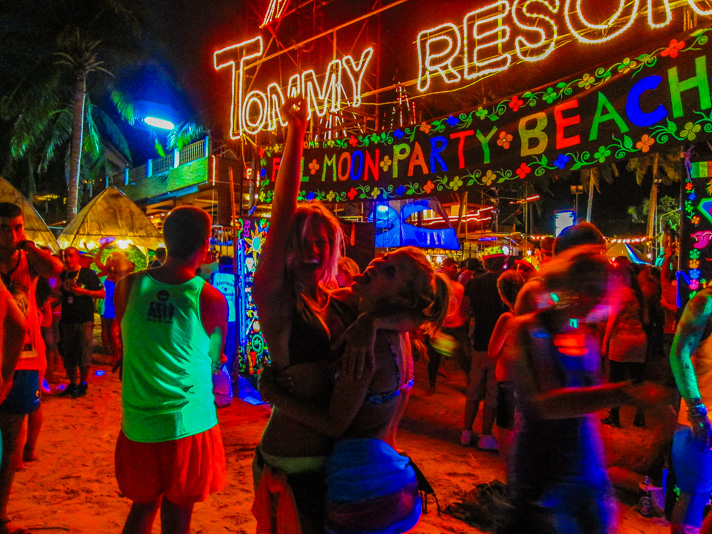 I had heard many legendary stories of the infamous Full Moon Party, and I was NOT going to miss it when I made plans to travel to Thailand! The massive party takes place on a stretch of beach on Koh Phangan island in Thailand. Each month, on the night of the full moon, thousands of people come from all over the world to partake in the festivities and dance all night long.
Here's what to expect at The Full Moon Party in Thailand!
My friend Lindsay and I took a morning ferry to Koh Pha Ngan from Koh Samui to partake in some pre- Full Moon Party festivities. We ended up meeting some awesome Italian guys on the ferry and made plans to meet up for the party that evening.
I had also made some awesome new friends Sevi (from Germany) and Katy (from the UK), that I met while snorkeling in Koh Phi Phi, who were also in Koh Pha Ngan for the party. So, we all met up in Thang Sala to spend the day on the beach preparing for the party.
That's the beauty of traveling in Thailand. You meet SO many other travelers!
Getting There
Depending on where you're coming from, the two closest islands to Kho Pha Ngan are Koh Samui and Koh Tao. There are inexpensive ferries running daily between all the islands.
The actual beach party is located on Haad Rin beach on Koh Pha Ngan island.
From Bangkok: The fastest way to Koh Pha Ngan is to take a short flight to Koh Samui and catch a ferry to the island. There are also budget-friendly overnight bus & boat options you can purchase from travel agents in Bangkok.
Where to Stay
Accommodation typically books up solid on Koh Pha Ngan the week before and after the Full Moon Party. Book in advance to make sure you have somewhere to stay. Or, do what I did, and leave your bags at a friend's hotel and stay out all night.
After experiencing it, I